Pack 216 at Nunaka Elementary School
|
home




Tiger Corner

If you are Tiger and you know it show your ROAR!
Tiger News Board
We are Currently looking for Den Leaders for Wolfs, Bears, and Tigers If, interested please
E-Mail Us
.
Checkout the Calendar and please bring the snack if you are listed for that Friday. The boys really look forward to the snack.
As the Pack winds down for summer the only News will be pack events, until next year. But , all in all it was a great year but, we are currently looking for new leaders.


Tiger Cub Motto:
Search, Discover, Share
Tiger Cub Promise:
I promise to love God,
my family, and my country,
and to learn about the world.

Parents are welcome and needed at each Den Meeting.

Check out the Family fun games on the related links page. Please be sure to do AT LEAST one family activity per week in the Tiger book. The boys cannot receive beads if they do not bring their books. The Den Leader is looking for a parent to help her out
with the Tigers!! Training is FREE and fun!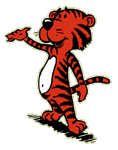 And Don't forget to say Hi, to Tigger!